February Wishlist
So last month I did a January favourites, and was planning to do that every month, but it turns out my February favourites are pretty much the same.
Trying to save means that I don't really buy new things to decide if I like them, so I don't really get new favourites, at least not that often!
So instead, I thought I would alternate between monthly favourites and monthly wishlist, as this would be more relevant and would stop me spending, or just having boring favourites all the time haha.
So here is my first wishlist of the year for February: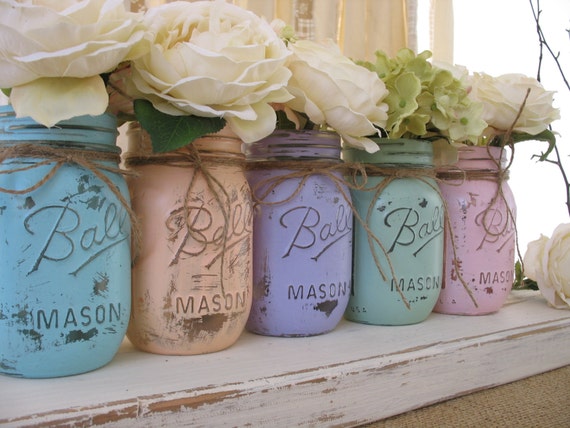 Pastel Painted Jars
I have been seeing these everywhere, and I think they are just the cutest little things ever!
I am in love with anything pastel at the best of times, but add in some distressing and some flowers and I want them all, everywhere in my bedroom!
They can be quite expensive depending on how big they are, so I'm debating whether to try to DIY them... we'll see.
Grey Ripped Joni Jeans
Topshop Joni Jeans are my absolute favourite jeans to wear, being super skinny and high waisted, as well as comfy to wear, they just tick all the boxes.
Where I have been wearing my DIY ripped jeans a lot, I'm thinking about investing in another pair, I'm not sure if I actually will take the plunge, as Topshop jeans are expensive, especially when trying to save!
So these might just be something that I wish for but never actually go ahead and get. *sob*
Vintage Wall Clock
I am in desperate need of a new wall clock in my bedroom!
I already have one, a lovely mirrored one with an Audrey Hepburn image on, but annoyingly it doesn't work, and is just on my wall looking impractically pretty.
I really like the whole vintage style... for everything, and my room already has a vintage feel to it, so I think that one like the image would go so nicely on my wall and become a bit more of a feature than the mirrored one.
Red Hair
Oh geeze do I love red hair!
I'm one of them people that wished that I had the guts to dye my hair loads of awesome colours, and experiment loads, but then doesn't actually do it.
I have had quite a few colours, such as dip-dyed pink, blue and purple, but I've never fully committed to anything permanent except a dark brown about two years ago.
It took me so long to get my hair from the brown back to my natural colour that I've stayed away from dying it since, as I can't be bothered with that hassle again, as well as constant root touch ups!
BUT LOOK AT HOW PRETTY IT IS!
It's like a little battle in my head.
I've even gone as far as to buy the hair dye, it's been sitting in my bathroom for at least a year, and I still can't bring my self to do it.
But I really really want to... aha, I don't know, maybe one day I will just take the plunge and hope that it suits me!
That's it for this months wishlist!
I hope you liked my choices and maybe even got a little bit of inspiration! :)