New found love for yellow
For as long as I can remember I have never liked the colour yellow.
I think it started when I was younger and my hair was a lot blonder. I had this idea that blondes don't suit yellow clothes, as there would be too much yellow tones going on and it would look stupid.
I guess it stuck with me, as I haven't bought anything yellow in years and would never have thought that I would like the colour again.
But then I was walking through New Look one day, and spotted this adorable flower print cami, and kind of fell in love. And shock horror... it was yellow!
I have resisted buying it until pay day, but next time I am near a New Look it will be mine!
Since I haven't been able to get that yellow top out of my mind, I have started to notice other yellow items that I actually quite like.
I'm definitely steering more towards pastel yellows, or bright yellow with patterns, as well as muted mustard tones. I still can't bring myself to love the bright in your face plain yellow clothes... but maybe I will get there!
Maybe It is because of the fast approaching spring and sunshine, that is making me want to be more daring and wear summer colours?
I'm not sure, but I'm quite excited to incorporate yellow into my wardrobe and embrace
the summer vibes!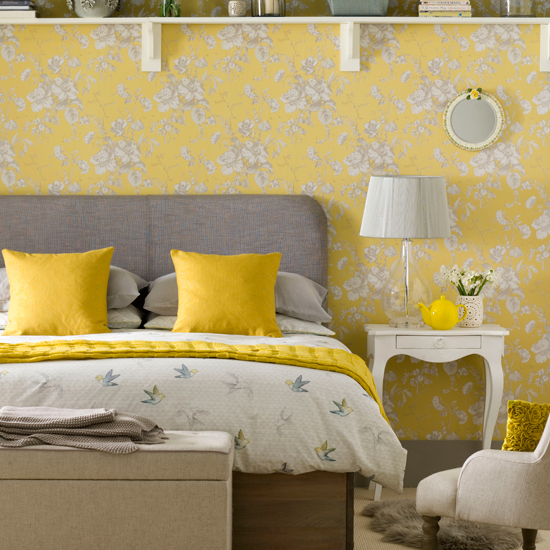 As well as yellow clothes, I've also been slowly liking yellow as an interior feature colour.
Again, this is quite a big thing for me, as with parents that love to make
every
room in their house yellow, I have never liked the idea of doing the same in my future house / flat.
Lately I've been buying a lot of craft and home magazines, just because I love to read them and they really inspire me. Inside the home magazines, there have been a lot of yellow themed interiors, and I couldn't help but fall in love with how they looked.
Cream, yellow and grey seem to go so nice together, and I really like how airy and happy they feel.
I've always thought I would be a minimal and monochrome decorator, with vintage vibes, but the colour yellow is slowly changing my tastes and thoughts of how I want my future flat to be, and I am totally okay with it!